A JOURNEY FOR adventure LOVERS
Botswana - much larger than Poland, inhabited by only two million people. The North is one huge nature reserve with the largest national parks - Makgadikgadi, Kalahari, Moremi (Okavango Delta) and Chobe. The variety of landscapes and the richness of animals rarely found elsewhere in Africa. And for dessert, the king of waterfalls - Victoria Falls.

16 days of adventure
A journey full of unique adventures: Okavango Delta rafting and hiking safari, Delta flight and Victoria Falls
standard expedition
We run Toyota cars ourselves, cook meals and spend the night in national parks.
nights in the bush
Designated campsites in national parks - have showers and toilets. Hotel in Victoria Falls
WILD NATURE 24/7
Traveling through areas remote from civilization and nights in the bush guarantee close contact with nature, not only during the day.

A TASTE OF AFRICAN SAFARI
Proven program of a trip to Botswana - prepared to spend as much time as possible among the wildlife.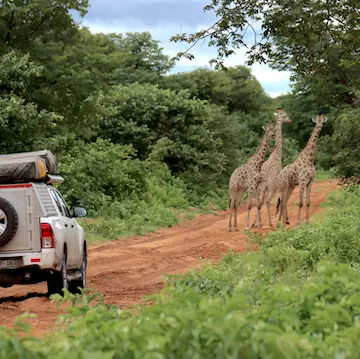 SAFARI IN THE OKAVANGO DELTA
We will spend a few days in the Okavango Delta. Away from civilization, we will devote this time to one thing - animal observation. We are not limited by time and the animals will certainly be there.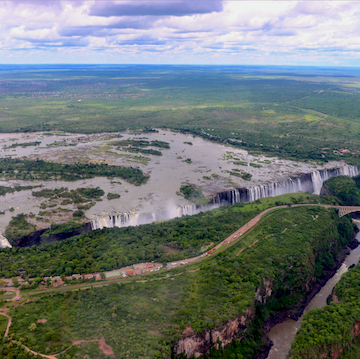 Victoria falls
Victoria Falls, Mosi-o-tunya
One of the Seven Natural Wonders of the World and Okavango's neighbor on the UNESCO list. The Zambezi, almost two kilometers wide, drops to 100 meters! We will see them from the air, water and two shores - from Zimbabwe and Zambia.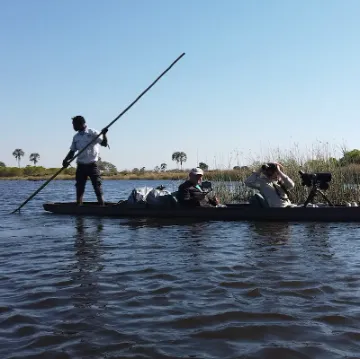 Rafting in the OKAVANGO DELTA
The Okavango Delta is the largest inland delta. It owes its fame to the unique wealth of animals living in its area. We will go deep in traditional mokoro boats and spend the night on one of the Delta islands.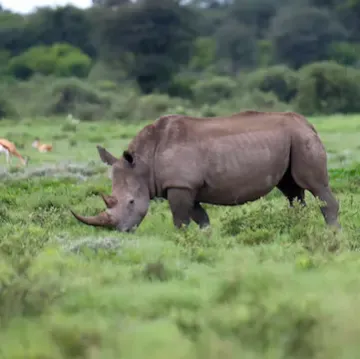 RHINOS IN KHAMA
At Khama Rhino Sanctuary, efforts are underway to rebuild the rhino population of Botswana. You will go on a safari here and look for these big animals.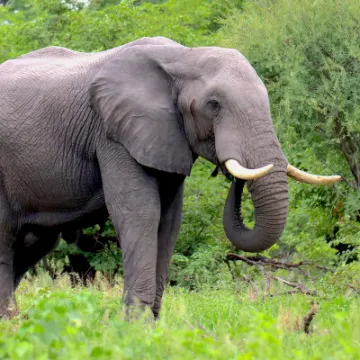 LAND OF GIANTS
The largest elephant population in the world lives here - 120,000. A national park that stretches along the banks of the Chobe River, teeming with a wealth of animal and plant species. A must-see on every visit to Botswana. We will spend two days here on safari!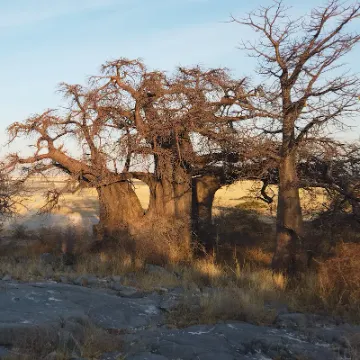 Giant Salt Pans
Makgadikgadi Pans and Kubu Island
The bottom of a huge, salty lake, unfriendly to people until today, and the island of Kubu with thousand-year-old baobabs. For two days we will escape the embrace of civilization into a landscape entirely from another planet. A great 4x4 adventure!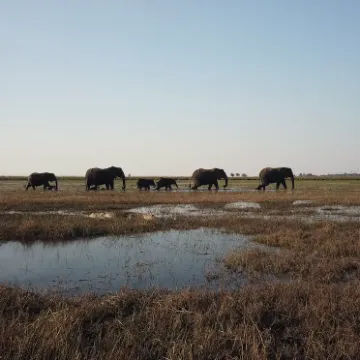 Chobe river cruise
During a cruise on the Chobe River, you can admire not only their grace on land, but also their unique swimming skills. There will also be other animals going out to the watering hole and lots of impressions.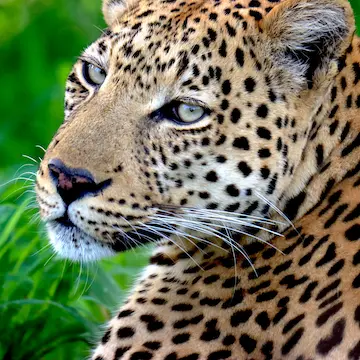 african big five
In Botswana, on a safari, look out for the Big Five of Africa. It is not easy, because there are few rhinoceros and leopards can hide well. But with any luck, we'll see them all: the lion, the leopard, the buffalo, the elephant, and the rhino.
A FLIGHT OVER THE OKAWANGO DELTA
One hour of flight over the delta, at low altitude, allows you to fully appreciate its enormity (up to 16,000 km2) and unique beauty. Thousands of small islands between which herds of animals roam.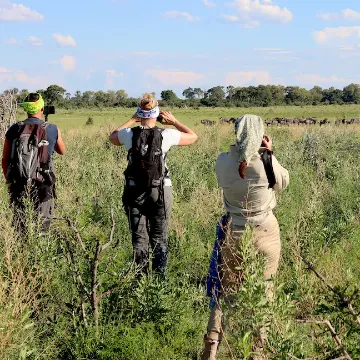 WALKING SAFARI IN THE DELTA
The only chance to go on a walking safari with a local guide. The ground will tremble under your feet as you scare away the wildebeest and the zebras watch. A completely different experience than during a safari in the car.
expedition plan
You will get to know Botswana from the closest possible distance. By off-road car you will reach its most inaccessible corners. Accommodation - at campsites in national parks.

Day 1.

Departure to Johannesburg (SA)
Reserve this day for a flight to Johannesburg. The expedition begins the next day.
Day 2.

Johannesburg - Mokolodi NP (Botswana)
In the morning, a meeting of participants at the airport in Johannesburg - the beginning of the trip. Car pickup. We cross the border of Botswana and reach the Mokolodi National Park, located on the outskirts of Gaborone. The first night in the bush.
Day 3.

Mokolodi - Khama Rhino Sanctuary
We get up with the sun. Morning hot shower overlooking the bush. It's really a highlight, you'll see for yourself. Stock purchases in Gaborone, then cross the Tropic of Capricorn. Photo obligatory. In the afternoon we arrive at the Khama Rhino Sanctuary. Overnight at the campsite.

Day 4.

Khama Rhino Sanctuary - Makgadikgadi/Kubu Island
Morning Safari - at dawn we will watch the birds in the watch room and then we will go to meet the rhinoceros. Then go. After approx. 2 hours, we refuel the cars with fuel and water - before entering the wilderness and off-road. We replenish food supplies for min. 3 days. Behind the village of Mmatsushumo, we enter the area of ​​the former Makgadikgadi salt lake. Goal of the day - Kubu Island. Today a hill, once an island on a lake. The first big baobabs are tearing from your breasts, ooh-aah. Sunset is a must - a beautiful golden hour for photographers. Dinner and overnight at the campsite.

Day 5.

Kubu Island - Nxai Pans
Breakfast and we start a new adventure - a cross-country crossing through Makgadikgadi. There will probably be African ostriches. We get to Nxai National Park. Afternoon game drive and overnight stay.

Day 6.

Nxai Pans - Maun - a flight over Okavango
We start the day with a safari in Nxai Pans NP. Then we go to Maun. Botswana's fifth largest city and gateway to the Okavango Delta. We board the plane - a flight over the Okavango Delta. After the flight, we stock up on food for the next few days. Overnight at a campsite near Maun. Tomorrow, a new adventure awaits us - kayaking on the Okavango on a mokoro.

Day 7.

Mokoro safari (day 1.)
Wczesna pobudka, szybkie śniadanie i o 7.30 ruszamy na nową, dwudniową przygodę. Na przystani pakujemy do łódek sprzęt (wypożyczone namioty i inne), zapas jedzenia i wody na dwa dni. Mokoro to tradycyjna, płaskodenna łódka w Delcie Okawango, swojsko zwana też dłubanką, albowiem powstaje przez odpowiednią obróbkę prostego pnia drzewa.
Płyniemy do sektora NG32 - południowo wschodniego rejonu delty Okawango. Do miejsca docelowego przybijamy około pory obiadowej. Przygotowujemy obiad, rozbijamy obóz i chwila odpoczynku. Po południu miejscowy przewodnik poprowadzi pieszą wycieczkę po okolicy - kolejna szansa na podglądanie zwierząt. Wieczorem kolacja, ognisko i do namiotów.
Day 8.

Mokoro safari (day 2.) - Moremi NP
We start the day with sunrise. Then breakfast and we're on our way back. We reach Maun around 1 p.m. Lunch, food shopping and we head towards Moremi National Park. Overnight at Moremi South Gate campsite.

Day 9.

Moremi South Gate - Xakanaxa
We are going to the camp on the bank of the Okavango. But slowly, calmly watching what the park has to offer. Lagoons, viewpoints at waterholes. Until then. BIG FIVE - the Big Five of Africa, i.e. the greatest animals of this continent - the African elephant, the black rhino, the African buffalo, the lion and the leopard. There are also those who are wronged not belonging to this elite: giraffes, zebras, antelopes (including wildebeest), jackals and others. We will visit the lagoons with viewpoints to reach Xakanaxa Camp - our accommodation in the late afternoon. Dinner, bed, but you probably won't fall asleep, because watching a hippo visiting our camp at night is a great treat.

Day 10.

Xakanaxa - Khwai/Magotho
We get up in the morning, rubbing our sleepy eyes with kulaks. But we want more. More will come after breakfast. Goal of the day: Khwai / Magotho Campsite. The road leads through the nooks and crannies of Moremi. Your watched list of animal species should get rich this day. We will stop often, spend long moments in silence, staring at the life around the waterholes.

Day 11.

Khwai/Magotho - Savuti
We are already leaving Moremi Park and entering another flagship national park of Botswana - Chobe National Park, known as the "land of giants". Giants because 120,000 elephants live here (out of 130,000 elephants in living Botswana). The day will pass quickly and will be full of excitement. Overnight at Savuti camp. Dinner. Perhaps the elephants will come to visit.

We're going to explore Savuti Plains in Chobe National Park. We do not pay attention to elephants anymore. The elephant ooh-ahs were common. If we need someone to complete the Big Five - there is a chance that we will find him in Chobe. We arrive at Ihaha Campsite. The camp is located on a slope on the Chobe River, with a sensational view of the river and Namibia on the other bank.

Day 13. 

Ihaha - Kasane - Victoria Falls (Zimbabwe)
Morning on the Chobe River. We will go to Kasane along the river road. We return our cars to Kasane. A cruise on the Chobe River - the waters of the river are full of hippos, crocodiles, elephants will probably appear, eager to cool off in the water. And an amazing wealth of birds. In the afternoon the minibus will take us to Victoria Falls. We check in at the hotel. If it's still light - it's time to fly over Victoria Falls (optional). Overnight stay at a hotel.

Day 14. 

Victoria Falls / Mosi-Oa-Tunya NP (Zambia)
We spend the whole day watching Victoria Falls. Step One - Victoria Falls National Park and part of the Falls on the Zimbabwe side. Then walk across the Livingstone Bridge and visit the Zambian side of the waterfall - in Mosi-Oa-Tunya National Park, which is Zambia's smallest national park. Overnight stay at a hotel.

Day 15.

Victoria Falls - Home
In the morning to explore Victoria Falls on your own, buy some souvenirs. Transfer to the airport. End of the trip.
Short report from previous expeditions
It is impossible to convey the mood of a great adventure - a safari in Botswana. But at least you will see micro snippets of the unique atmosphere and tons of events every day.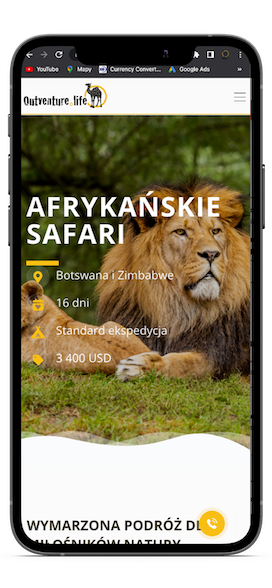 + international flight tickets
included in the price
Expedition cars with full equipment,

Car insurance, fuel and tolls,

Okavango flight, Okavango Delta rafting and Chobe cruise

Admissions to national parks,

All accommodations,

Hotel breakfasts,

Zimbabwe and Zambia visas,

Experienced pilot and guides,

NNW and KL insurance,

Contribution of TFG / TFP.
not included in the price
Plane tickets,

Food (approx. 10 USD / day),

Own expenses, tips.
dates and booking
Choose a convenient date for your vacation in Botswana and send the reservation. I'll call you back with details.

testimonials
Every good opinion is happy. And it adds enthusiasm. Bad opinion - it teaches humility.

Our Jarek has prepared an expedition, the effects of which will have a prolonged effect.

It's hard to digest day after day what we saw, what we felt ... it will be a delayed ignition reaction. Or maybe the smoldering flame of feelings for Africa will just remain with us. It was beautiful. All the selected places were worth a few hours of driving, and the ones we found spontaneously were worth it even more.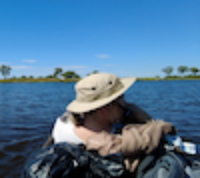 Cool concept. I recommend with all my heart.

If you don't have flies in your nose and you are tolerably fit, and in addition to aesthetic values, you want to use the inexhaustible knowledge and experience of Jarek Skowron, who makes an aesthetic trip - an educational adventure - pack your bags and go.
A sensation with a capital "S".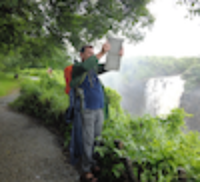 Botswana is my most amazing journey!

It was my first trip to Africa. Before leaving, I was worried about everything - what to take with me, what food, what to wear, where we would spend the night and whether it would be terrible to sleep in a tent on the roof of the car.
All my nerves were unnecessary! The tour operator answered all my questions in detail. Along the way, we had clear instructions on what we can and cannot, where we will go and what exactly we will see.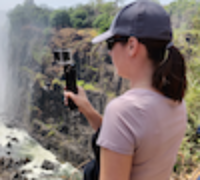 An opportunity to see Africa up close, such as cannot be seen from the hotel window or bar.



At the same time, it is not a trip with Bear Grylls' team of colleagues, but a really well-prepared journey to the most interesting corners of Botswana.
If you do not know if Africa is for you, or if you already know it is - in both cases it is worth going there with an outventure.